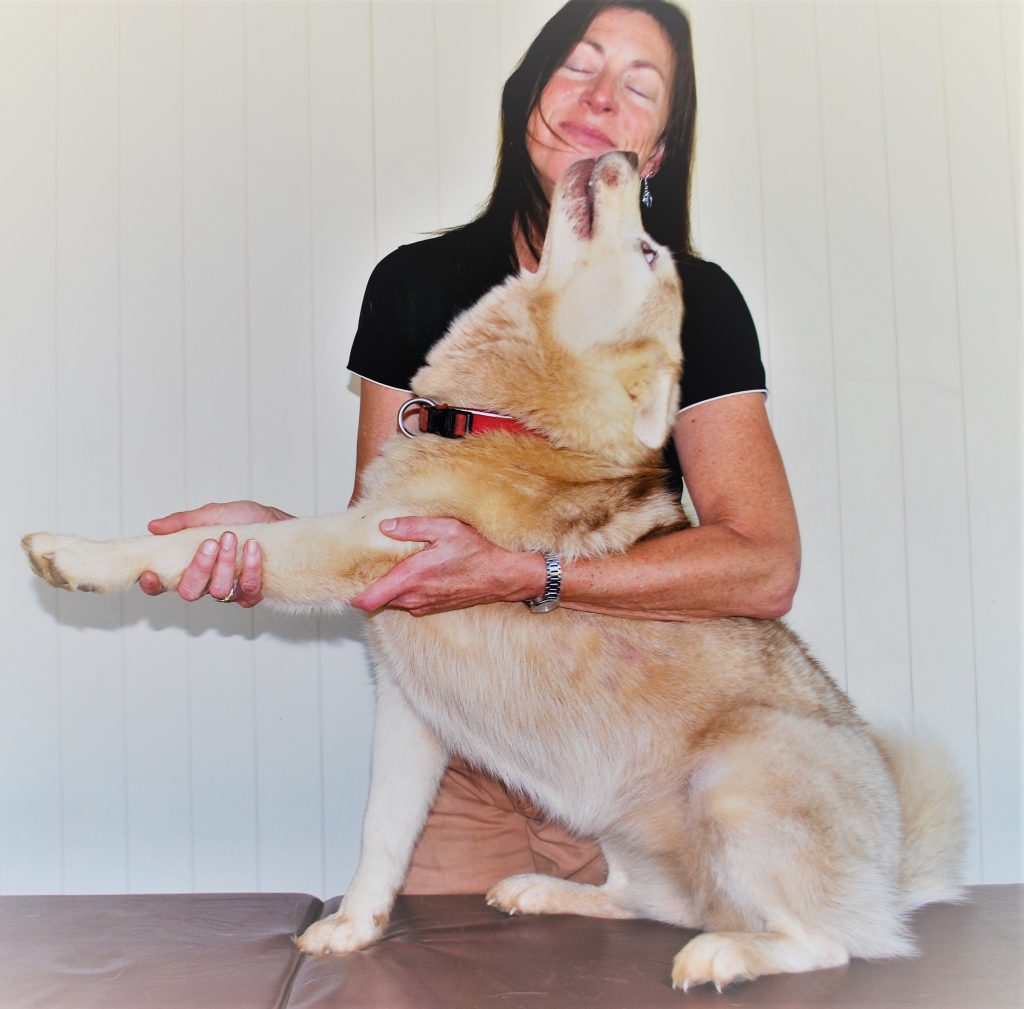 ---
Dr Lesley Goff has compiled videos on canine stretching and canine range of motion exercises.
These are useful for practitioners and dog owners.
---
Back, neck and pelvic pain

Hip flexor stretch

Degenerative joint disease (arthritis)
Rehabilitation after surgery
Thoracolumbar disc pathology
Joint pain (congenital and orthopaedic)
Muscle strain/tears
Tendon and ligament injuries
Canine sporting injuries
Neurological conditions
Back pain and arthritis
Arthritis is a common condition diagnosed in many dog breeds. Some dogs, through injury or congenital conditions can develop painful and limiting arthritis (degenerative joint disease) at an early age. Physiotherapy, in combination with the right veterinary intervention, can provide pain relief and enhance movement and muscle function. This can prolong the quality of life in dogs with arthritic joins, sometimes even reducing the requirement for medication.
The sporting and working dog
The sporting or working dog is an elite athlete, and should be given the chance to reach the optimal level of performance or work, without pain. The physiotherapists can provide musculoskeletal screening to help the dog to achieve working and sporting goals, and use their physiotherapy expertise to both prevent and treat injuries.
Congenital and orthopaedic conditions
Many dogs have
congenital conditions
such as hip and elbow dysplasia, and congenital deformities of the spine. Physiotherapy can help to manage pain, and provide programs designed to help the dog with such conditions improve and maintain their musculoskeletal function. There is good scientific research to show that recovery from orthopaedic injuries such as partial or full rupture of the cranial cruciate ligament of the dog's stifle can be greatly enhanced via physiotherapy rehabilitation.
After surgery
Just like in humans, early physiotherapy intervention for the dog following orthopaedic (joint) or neurological (spinal) surgery is being carried out in canine surgical clinics, to enhance recovery following surgery. The physiotherapists at Active Animal Physiotherapy have assisted many dogs recovering from back and orthopaedic surgery, in speeding up their recovery and enhancing the overall outcome following surgery. The physiotherapists work with the veterinary surgeons at Unviersity of Queensland Veterinary Medical Centre, as a visiting consultants, to assist dogs following surgery.
Prevention of injuries
Early detection of movement abnormalities, which may be indicative of orthopaedic conditions, muscle imbalances or other musculoskeletal problems, are important to help prevent development or worsening of pain and loss of performance. Animal physiotherapists are well qualified to assess movement disorders, and communicate closely with veterinarians who will diagnose if there is any underlying condition.