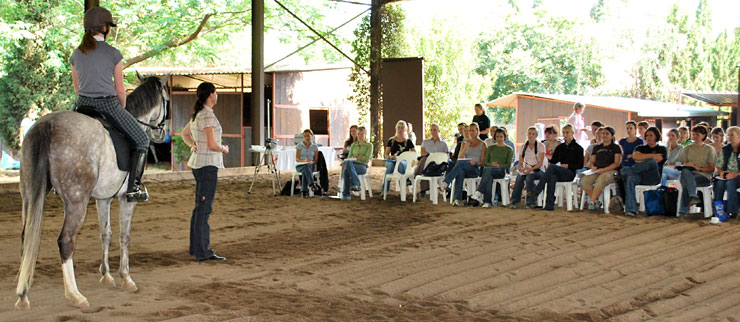 Do you or your horse feel stiff on one rein?
Are you or your horse crooked?
Does your saddle always slip to one side?
Having trouble collecting your horse?
Do you want to PERFORM BETTER?
Physiotherapy can help! Contact us to book in today. Read on to find out more.
The physiotherapists at Active Animal Physiotherapy are uniquely placed to offer expert horse and rider assessment and treatment. All physiotherapists have completed a degree in human physiotherapy, followed by further post graduate study in animal physiotherapy. Lesley's research into the human and equine sacroiliac joint allows the team of physiotherapists a unique understanding of the complexities of the horse-rider assessment and their integration.
How does the rider affect the horse?
Physiotherapy has a role in treating the rider for:
Management of existing injuries or pre-existing conditions (e.g. arthritis)
Back and Pelvic pain
Sacrum, coccyx and SIJ (sacroiliac joint) pain or dysfunction
Neck pain or stiffness
Hip/knee/ankle pain or stiffness
Sporting and traumatic injuries
Physiotherapy can also help if you have:
General stiffness and lack of flexibility
Difficulty contacting evenly through the seat
Difficulty maintaining your seat on one rein, through different paces or movements
Difficulty contacting evenly through the leg
Unlevel shoulders (affects contact through the hands)
Excessive trunk or head movement when riding (normally due to reduced core stability)
Saddle Fit AND EQ SADDLE SCIENCE:
Active Animal Physiotherapy is excited to announce the arrival of the EQ Saddle Science Flapless saddle to Australia. We have been privileged to have been able to trial the saddle for the last month, and have found it promotes better rider comfort and position. in addition to improved horse comfort and quality of movement.   Find out more about the saddle here: https://eqsaddlescience.com/
Our results in trialling this saddle, are in line with recent research findings. The EQ Saddle Science Flapless saddle has been studied by world renowned biomechanics expert and researcher,  Dr. Hilary Clayton. Dr Clayton's research has confirmed the saddle produces better stability of the rider, when compared to other saddles,  as well as rider reporting improved elasticity and freedom in the horse, with better responsiveness  to the aids. Find out more here:  https://eqsaddlescience.com/science
We are very pleased to be able to offer you the first chance to trial and purchase these saddles in Australia.  Be one of the first Australian riders to try the EQ Saddle Science Flapless saddle, by letting us know if you're interested in doing so, or even just staying informed to be able to trial this saddle on your horse in the future.
Contact us at info@animalphysio.com.au if you have any further questions or to see if we can help.